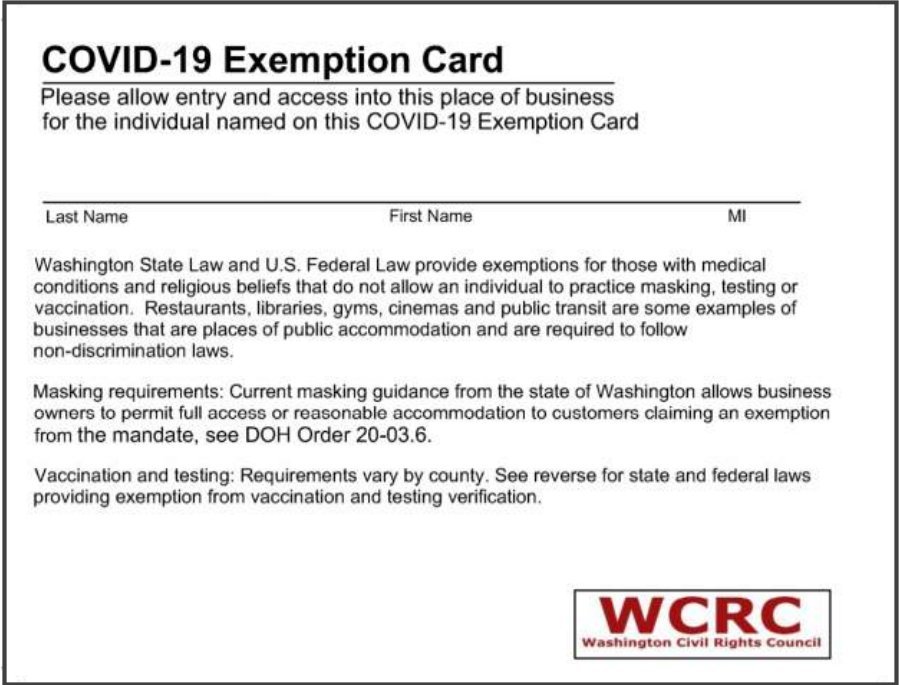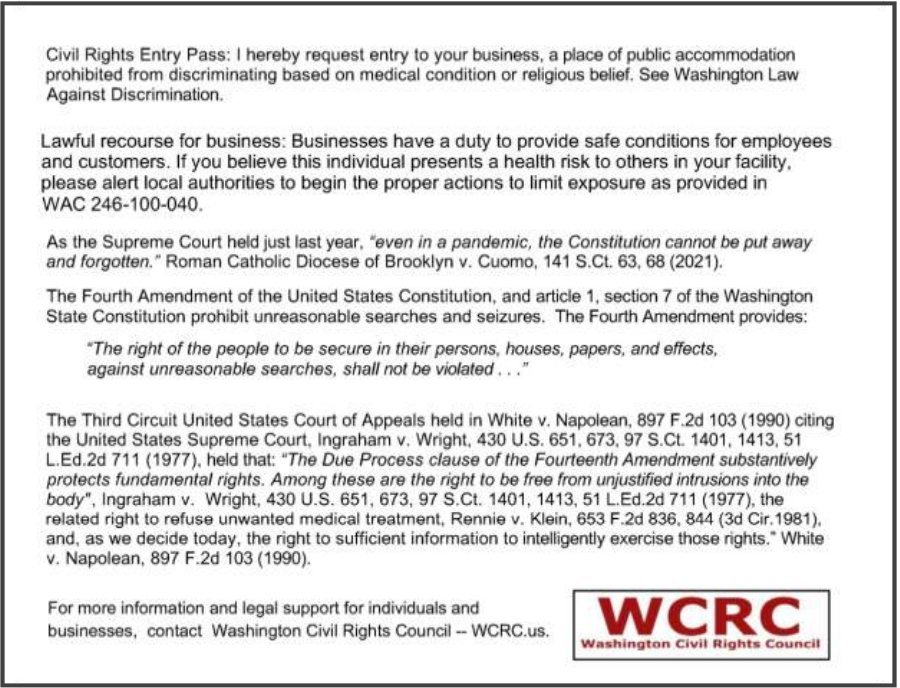 If your business has been presented with the COVID-19 Exemption Card, you should be aware that by law you must accommodate the patron or employee presenting it. Even if your business is required to enforce a mask mandate, it is understood that certain individuals are exempt, and you are allowed to grant them full access to your premises, without risk of penalty to your business. If you refuse to provide accommodations, you are in violation of the Washington State Non-Discrimination Law (RCW 49.60.030).

The WCRC COVID-19 Exemption Card was developed in response to inquiries from businesses and consumers regarding their legal rights and obligations. We understand that since 2020, businesses have been put into a new role of having to enforce health policies and regulations and this presents challenges because sometimes there is a conflict between wanting to accommodate a customer or employee and wanting to be in compliance with a mandate.
Most businesses are happy to learn that the same WA State Health Order (DOH 20-03) that directs certain businesses and agencies to require masks, also provides for exemptions and allows for full accommodation for exempt individuals. The exemptions recognized in the Health Order do not require any proof of medical condition or doctor signature based on long-standing medical privacy laws. While only a few sectors, such as healthcare, are still under a state mandate, private entities that choose to have COVID-19 mask, test, or vaccination policies must still conform to Washington State law.
Just as penicillin and other antibiotics are perfectly safe for most yet dangerous for some, no medical procedure or treatment can be prescribed universally for an entire population because each person's medical history has to be considered individually.
If you are a COVID-19 Exemption Cardholder and have encountered difficulty using the card, please send us details on the incident. For inquiries on obtaining an Exemption Card, contact us through our website.