An Informed Citizen is a Lethal Weapon!
Empower people to STAND UP for the LAW with confidence, through education and legal tools.
Washington Civil Rights Council was founded in the Summer of 2020 by a group of ordinary people, volunteers from different walks of life who all shared the goal to help Washingtonians preserve our god-given individual freedoms.
We started our efforts by publishing an Educational Packet to empower those exempt from the masks.  In June 2021, we hired Lawyer, Luis Ewing, to provide Washingtonians with a rock-solid legal notice they could use to inform others in the workplace about actual LAW and also to lawfully decline 'vaccines' as a condition of employment.  This Constructive Legal Notice along with videos of our events went viral, reaching hundreds of thousands in Washington and helping tens of thousands of people keep their jobs.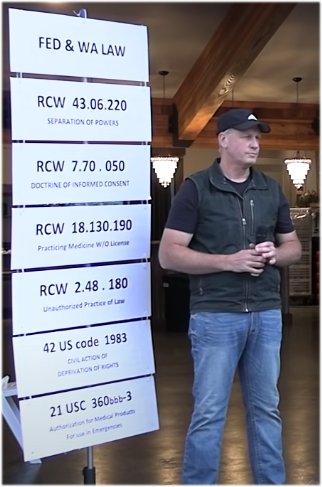 By fall of 2021, the WCRC introduced its powerful Wrongful Termination Legal Action Program for those who have lost employment or are being threatened with termination
.  The donation based Pro Se Legal Action Program is designed to give anyone impacted by Workplace 'Vaccine' mandates access to justice!  
WCRC is now expanding its focus to also include education and support for Business Owners and Business Managers.  We are in constant dialog with the community and we evolve our tools, resources and legal support as the latest needs dictate.  
We appreciate your donations which cover the ongoing  research and the legal support that we provide.  
Send us a message below or email
W C R C @ P R O T O N M A I L . C O M
Fill out the form below to contact us now